"If you were happy with all you had, then you'd grow, If the sun and moon could make you glad, then you'd know. With food on your plate and a place to sleep, be thankful and you'll be given more to keep…
Today's Weather…Beware of the fog! It is a gateway to the otherworld!! "With all control look for the hole, your mind gets weak, unless it's truth you seek.Swirled and twirled into another world…
Pîtikêwa Seekers!
We are introducing our new book, the 3rd Little People book, "Travel In-Between Space with the Little People." Available now. Click book below. It is a middle grade novel which is equivalent to two Little People books in one, filled with more illustrations, this time I digitally painted them. If you would like to see some of the illustrations from my book, go to DiSanoViSions gallery in our menu above. We are so excited to share it with you. Forgive my blog, it is very outdated. Ha! Just enjoy reading a few stories about the fae if you prefer.
"Travel In-Between Space with the Little People," embarks us on a galactic journey where the heavens and earth meet. Through the introduction of quantum manifesting, the Little People and their friends learn to shape the ebb and flow of change from the heart.
See the cover below….

For all to Enjoy! A very peculiar place to read about the shenanigans and goings on in places we can only dream about! If you have a story to tell, we encourage you to post it here. This, we hope, will become home to everyone with a magical heart and longing to get away. We wish for your imagination to take you there.

*note– Meet the Little People, An Enchanting Adventure's title has changed. One word and nothing else, from Meet to See! "See" is a more appropriate word when it comes to the elementals…the story remains the same, yet you may receive copies of the old title during the transition. The mandala effect maybe, though I do know for sure we are now on a different timeline!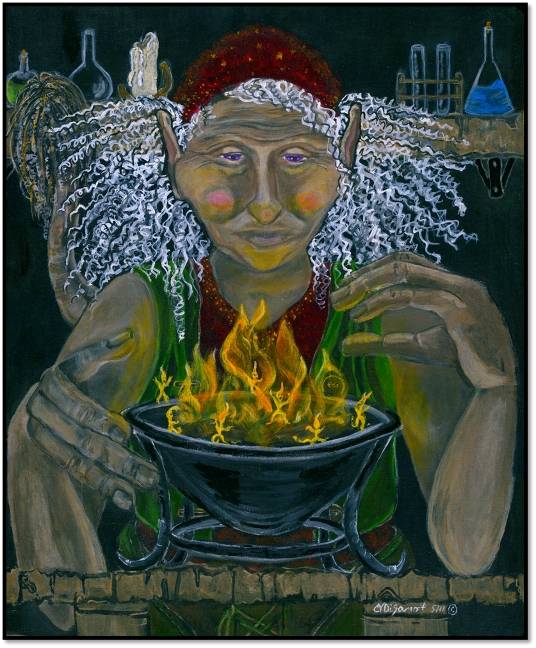 The Alchemist Troll, Exclusive!
Learn Alchemy. Meet Lesky the Troll by the hills to the North of Snagwood Thicket. Maybe he will pick you to be his apprentice? Warning! You must be prepared to undergo rigorous testing!
And….If you enjoy art and would like to see some of the illustrations in the books, please visit our gallery site, DiSanoViSions.com
Don't forget to head over to Amazon to get your paperback copies of the Little People Books! See the Little People…An Enchanting Adventure is on CD in our shop and on Audible.com!
New YouTube Channel
See how I create my artwork. Higher Energy Spirit Art, click below
If you are interested in personalized visionary art watch how I create one. Go to My Gallery to watch the videos or Click the Intuitive Art/Guidance tab in the menu for more information….
NEW!
The 3rd Little People book in my series.
Travel In-Between Space
with the
Little People
Samples of our Conscious Tee's