For Parents: Summary of Little People Books
This is a "sort of" synopsis of my books, because I do not give away all the fun. So I have written a quick summary of the books (click below the painting). Ironically, the smallest book, has much going on, warning there are spoilers, without the details, though. But I wanted to let you know what your children would be reading. I wrote these books not even knowing the adventure itself, and I, myself, uncovered what would happen next, each time I put my pen to the paper. I have 3 books, not necessarily a series, as they can be read independently from each other, but they are connected, as they are all about a little people family of seven, who are nature elemental spirits, or fairies with special powers, and explain that humans have them too, yet unfortunately, they remain dormant.
The Little Peoples Bio's, click for the PDF HERE
Benoway (male teen/young adult,) Maiara (female teen/young adult,) Chepi (female teen/young adult,) Gramma Tenanye (female adult,) Grampa Foster (male adult,) Deetkatu (male child,) Trinity (female child.)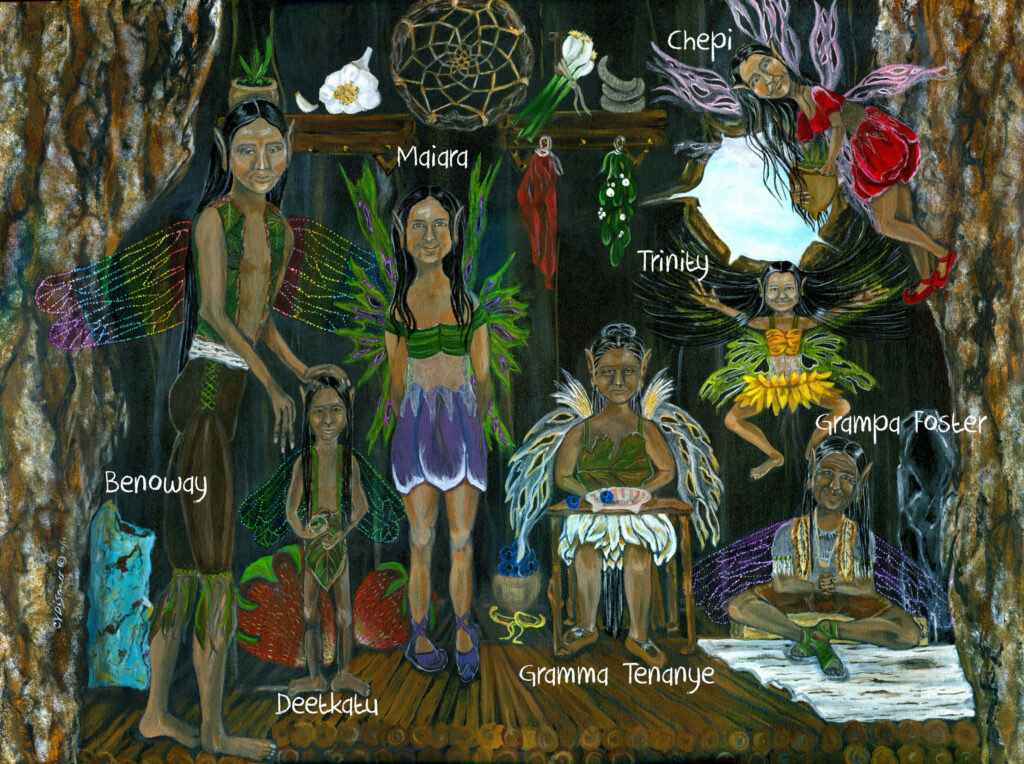 Please click the PDF summary to read, for parents.
They are fantasy books for middle grade readers, boys and girls, I would say about ages 8 to 12 or so. They are not based on any culture, except they do have in essence a Native American spiritual belief system or natural law. They are not necessarily traditional, either. I illustrated them with the intention of diversity and without labels. The color of their skin resembles the bark on trees, as well as the clothes they wear are gifted from plants and animals they befriended. The little people will talk in rhymes and the narrator, or their friends, for the most part, will not. All books are about love, friendship, integrity, and have a message to children about their own power within themselves, and they can learn along with the characters through amazing imaginative adventures. The books mainly revolve around the little people children, Deetkatu, and Trinity, and their family is always involved in what ever shenanigans they get into. I do not emphasize who their specific mother or father are, as they are all one, and take care of each other as an entire family. I do specify the grandparents though, and you can assume who's roll is who's, in my books. To read more check out the PDF. Any questions, of course email me!