I read this book in the 90's suggested to me by one of my dearest friends and teachers, whom I accidentally met, that led me on my spiritual path. Her son's passing took her on an amazing mystical and spiritual journey only to give her the comfort and knowing he was alive and well, just in another dimension. My everlasting love to this beautiful soul-mate and dear friend Blanche.
This is a book she loved and when I read it, it was by far one of my favorite books of astral travel into the afterlife. It is supposedly a true account, though I do sense, reading it again after 20 years, his own interpretation of certain things like race and child parenting written in his time. I have to say the rest of it resonates with other teachers of the astral, mental and causal realms and matches many NDE studies, hypnotherapy studies and after-life books I have read. I especially love how much he talks about the Elemental Kingdom, the nature spirits, Deva's and about the animal kingdoms, especially our dogs. A great eye opener into the realms we will experience when we leave this world. Whether you believe or not, it is a very interesting read filled with information. It totally makes sense to me that birds will not evolve into the human race but into the elemental and angelic kingdoms, as do fish. You have to read it to find out.  (this is one book of many she introduced me to, and will elaborate other great books in another post)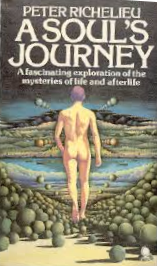 Written in 1953, while in a state of despair after the death of his brother, the author is visited by Acharya, an Indian mystic. Using astral projection, Acharya takes him out of the physical world onto the astral planes of the 'afterlife'. Each astral plane teaches something new about life and death, karma and the ego. Through a series of meetings with the 'dead' – including his brother – the author comes to realize how irrational it is to fear death.
Through his teaching, Acharya opens up a whole vision of life in the world that follows this, a world where anything is possible.
Based on notes taken immediately following out-body experiences, this book is both enlightening and absorbing. It gives the reader a direct insight into the unknown mysteries of life and death.
Here I thought it was out of print, yet I found a PDF of the book, A Soul's Journey, Peter Richelieu and to listen along with it, I found a free audio of the book as well! Here is the link… A Soul's Journey, Audio Book. This is read by a robot BTW, can get tiring to listen to but if you use the book as you go along, it is much more helpful.
I really enjoy listening to audios while I am painting.. I hope you enjoy the book! Thank You to galactic.no where this book was located free!