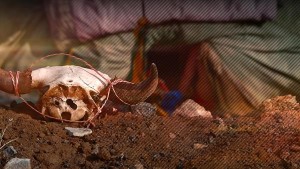 Healing PTSD through Native American sweat lodge ceremony is something I have always believed to be an alternative to medication. Veterans could receive healing through the sweat lodge. Modern medication attempts to treat the symptoms and does not address the causes. The build up of a life time of stress and pain triggers post traumatic stress.
      The ceremony in essence rolls back these memories for the individual and allows them to release it and start new. Disease is soul based , medication can not repair the soul. The sweat lodge is considered the womb of the Earth mother , when you enter this and the door closes , the guide instructs you to what will happen . After the opening prayers , songs , the heated rocks are brought inside. The lodge is a circular dome made of natural material. A round dug out pit in the center is where the rocks , also called the grandfather stones are placed here. The stones that are used are ancient and revered. Herbs are placed on the heated stones , water will be poured onto the rocks as the ceremony goes on. There is usually four rounds of songs, at least 48 rocks will be added . The total is up to the guide. The heat draws out the built up toxins in the body. Spiritual cleansing is done by the elements that are called in, visions are usually attained by the attendees .
      It depends upon the mind set , as the more open minded will gain results. At the end you exit single file , this is when you are rebirthed again. Out of the womb of the Earth mother. The video shown is exactly what my calling is. I plan to have healing ceremonies for Vets in time. Please click the buffalo skull and sweatlodge picture above to watch a great video from KoAA News in Colorado.
Let me know your thoughts on this.